The Black Tattoo - a book about demonic possession, flying kung fu, vomiting bats, the end of the universe and other fun stuff like that, by Sam Enthoven.
Thursday 20th December 2007
ZZZZZZ…!
By the time you read this, I'll probably be asleep. It's been an absolute mutant boxing kangaroo of a year for me, I'm pretty much at the end of my string, so things are going to go quiet here for a bit. But don't fret! Once we're rested, you can rest assured that the WebSphinx and I will be back in the New Year to astound, appal or amuse you (take your pick). Momentous things are afoot (SQUELCH!) So do keep checking in. ;)
If you're here for the first time (you got Black Tat for a present, maybe? Hurrah!) then Hello, and welcome to the Sinister Masterplan to Conquer the Universe! If you haven't already, do check out the all-new website for my forthcoming book, TIM, DEFENDER OF THE EARTH.
Meanwhile, the WebSphinx and I would like to wish everyone reading this HUGELY happy holidays, and all the best for a MONSTROUS 2008.
-Or, as the Pastafarians say, "Merry ChriFSMas!" ;p
-------
Tuesday 18th December 2007
What a year!
Well here I am, nodding off into my dinner as 2007 finally topples towards its close. I am absolutely knackered, but I've got to say I'm pretty happy about how it all went.
As I do keep mentioning(!) my new book, TIM, DEFENDER OF THE EARTH is about to be published. I'm very, very, very, very excited about that - and I hope you are, too! But also, and almost even better (at least from my point of view!) I have some other news...
I can now confirm (drum roll please…) that I have now signed new publishing deals for two more books. As with Black Tat and Tim, these will be published by Random House Children's Books here in the UK, and by Razorbill in the US. Yes, folks, this has been in the works since the summer, but now it's official: Phases Three and Four of the Sinister Masterplan to Conquer the Universe… are GO! BWAH-HA! BWAH-HA-HA-HA-HA! Ahem: 'scuse me. ;)
This was by no means a foregone conclusion – authors' careers stall early all too often – so I hope you can imagine how pleased (and relieved!) I am. I love writing for young people: I aim to do this until I'm a very old and very peculiar man (I'm already pretty peculiar so it's just the 'old' bit to work towards now), so it's wonderful to have the chance to continue to chase this dream for another two books. There are a number of people I'd like to thank here for their help in making the next bit of the masterplan a reality, but who would probably prefer to remain nameless (they know who they are, I hope!) However: I particularly want to express my gratitude to my fantastic agent, Penny Holroyde. And also… TO YOU, READING THIS! –YES: YOU!
By the sounds of it, Black Tat has done very nicely so far. I don't think I'll be buying noodles for J K Rowling just yet(!) but for a debut novel its sales have apparently been – and I quote my publishers – 'phenomenal'. If you're reading this, that's partly down to you – so, THANK YOU! I hope I can show my gratitude by writing more stories you enjoy. I promise I'll do my best. Just as soon as (yeesh) I've had a few days off! ;)
-------
Saturday 15th December 2007
Black Tat US Softcover!
This morning an enormous and mysterious canvas US mail-sack arrived at the door. It turned out to contain a box of twenty copies of… THIS!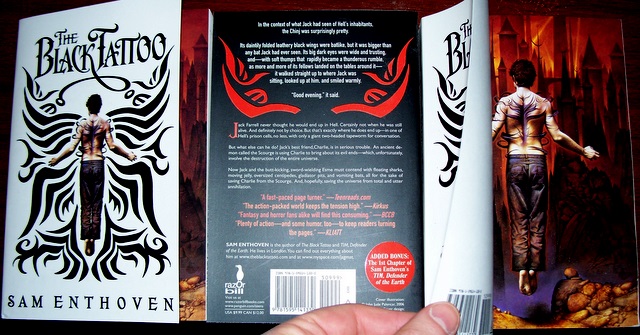 Yep, it's the US paperback of Black Tat, due in shops across America any day now! The front cover is closely based on the wonderfully eye-catching design that the Random House Children's Books team came up with for the UK paperback. The US edition is a little larger, however; the awesome US page-layouts have made it into the new format in their full glory; the first chapter of Tim [also available here] is included at the end – and yes, there's one other feature, namely a full colour version of Mr Palencar's beautiful painting, on the first page! In short? I think it's terrific. HURRAH!
-------
Friday 14th December 2007
Stoke Newington School
A surprise bonus event, this: I'd thought I was finished with school visits for the year, but today I was lucky enough to get the chance to come and do my stuff at Stoke Newington School. I was particularly pleased to be invited to SNS as it's just a short walk across the park near where I live! And what a great session to round 2007 off with. When I speak in schools I like to throw things open to the students as quickly as possible so they can ask me questions, but it usually takes a reading or two from my stories to get the ball rolling. Not for this group, though! The questions came thick and fast straight away - and really good ones, too. In fact, I was enjoying the questions so much that I didn't even get around to my first reading until about halfway through the session! A HUGE thank you to Ms Loy of the SNS LRC and to Jo of Victoria Park Books for arranging what was a really inspiring and energizing visit. And to everyone who was there, thank you for having me! I thoroughly enjoyed speaking to you, and I hope to come back one day soon.
-------
Tuesday 11th December 2007
The Explore Book Award
Here's something really brilliant that I've only just heard about. A special new book prize has been launched in the UK borough of Wigan – and Black Tat is on the very first shortlist! Here's a link to a news piece about it on the local council's website, complete with a pic of someone holding up a copy of the book (thanks, Dylan!) The prize has two categories, and the winners will be determined by the votes of young people in the borough. I'm absolutely thrilled that Black Tat is involved in the inaugural year of this award. But (eek!) I'll be on tenterhooks until the votes are counted and the results announced come May!
-------
Tuesday 4th December 2007
Snort! Chew! RAAAAAAAGH!
Another month has shot past - sheesh, I'm barely keeping up. HOWEVER: for anyone who's kept the faith and is still reading this – particularly if you liked Black Tat and want to know what I'm bringing out next – this time I've got what I hope will be something special for you. Now, thanks to the toils of the Mighty WebSphinx, I have a brand new website. Behold:
Yes folks, at last it's ready, a special site dedicated to my new book, TIM, DEFENDER OF THE EARTH. What's up there now is what the WebSphinx and I have been calling the 'soft launch' version. It's still a little rough - please be patient with us while we work out the kinks! - but you'll get the general idea I hope. We'll be adding new features throughout the coming year. To start with (among other things) I hope you might be interested in Tim's opening chapter, up there now for all to see. Yes, you read it here first, folks! Don't forget to drop us a line in the all-new Tim Guestbook to tell us what you think!
-------
Friday 30th November 2007
...And Now It's Official!
And just in case you needed further convincing to go and check out the new site, I'm very happy to announce that TIM has made the shortlist for the 2008 Waterstone's Children's Book Prize! For those reading this from outside the UK, Waterstone's are currently Britain's biggest bookshop chain, with branches all over the country. And from when Tim comes out (late Jan '08 over here) to when the winner is announced in mid-Feb, it's apparently going to be on a special display with the other shortlisted titles in all of their shops. Not a bad way for a book to start its public life, right? ;) Here's the full list:
Tumtum and Nutmeg by Emily Bearn (Egmont)
Broken Soup by Jenny Valentine (HarperCollins)
Stone Goblins by David Melling (Hodder Children's Books)
Blue Sky Freedom by Gabrielle Halberstam (Macmillan)
Between Two Seas by Marie-Louise Jensen (OUP)
Shadow Forest by Matt Haig (RHCB)
Ancient Appetites by Oisνn McGann (RHCB)
TIM, Defender of the Earth by Sam Enthoven (RHCB)
Ways to Live Forever by Sally Nicholls (Scholastic)

I wasn't allowed to tell you before – not easy for me, as I'm rubbish at keeping good news a secret! And until the announcement was actually made, a part of me kept thinking that it was probably all a mistake and the judges would change their minds at the last minute. In fact I'm still finding I have to keep checking to see that Tim is on there and I haven't imagined it! Bananas.
-------
Tuesday 27th November 2007
Q&A Latest
Check here for the answers to the latest questions in the Black Tat Guestbook. My thanks, as ever, to everyone who's written in, but particularly this month to Shyla from New York and Kaitlen from Illinois – who, by some quirk of coincidence, separately both asked the same question! Thanks, too, to Edward Z. for two more, plus an excellent theory about how exactly (SPOILER WARNING) Jack managed to defeat Lord Slint. Take a look!
-------
Saturday 24th November 2007
NMWHIT MOTWC – Another Winner!
The WebSphinx and I are delighted to announce the winner of the fourth round of our ongoing No Monsters Were Harmed In The Making Of This Website Competion: it's SALMAN and his spectacularly weird-looking MOULDY CHEESE. Hit the link to check it out. It reminds me of those NASA pics from the surface of Mars, with simultaneous hints of some really alarming skin condition – AWESOME. ;) Round Five is now open. Will you take this chance to show your eye for the vile and maybe win yourself a Black Tat prize? -Quick, grab a camera!
-------
Wednesday 21st November 2007
900-Plus Pals for Jagmat?
Hell's Teeth, Jagmat, for a repulsive shape-shifting blancmange monster you're mighty popular. But are you spending so much time on MySpace you've simplyforgotten you came through the Fracture to kill me, or what?
-------
Friday 16th November 2007
Lone Star List
Here's something that's been one of the highlights of my entire year. Last December I heard the fabulous news that Black Tat had been chosen for the Lone Star List, a selection of recommended titles for Middle School readers across the entire state of Texas. Well, now (THANK YOU, MARIBEL!) I've just received the official poster to prove it. Take a look!
I'm thrilled and delighted and amazed that my weird London story has been included on this prestigious reading list. To any Texan readers who've discovered Black Tat this year as a result, I hope you enjoyed it – and I hope you found something here on the site to help you with your book reports! ;)
-------
Monday 12th November 2007
Another MONSTER from Morgan!
If you've been checking in with this page for a while – and no worries if you haven't, God(frey) knows I don't update often enough! – you might remember that back in May ('07) I mentioned that my good friend Morgan Omotoye had published an awesome pair of short stories in the excellent free magazine Litro. Well, he's done it again! Click here for printing instructions, and here for the pdf of the EXCELLENT 'Dad's Friend'. Be warned! It's a little sweary and rude in places, in case that kind of thing upsets you. But with "the spittle slick head of an eyeless hyena" and a bloodcurdling illustration from the equally awesome Faith Connell as just two highlights to look forward to, I ask you: how could anyone else possibly resist??
-------
Thursday 8th November 2007
Darkness in Darlington!
Today was my last event before Tim is published – so my last event specifically about Black Tat, I guess, amazingly. But what a great one to finish with: a day trip on the train, to Darlington!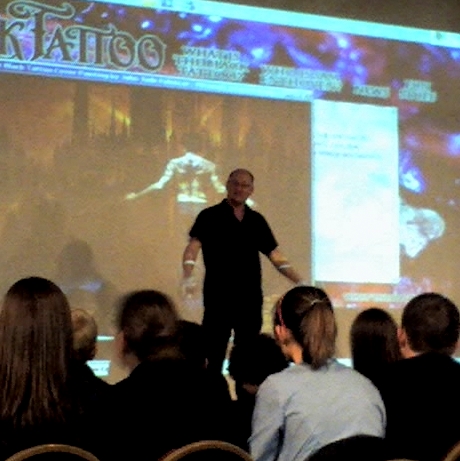 Here's a pic of me doing my stuff in the second of two excellent sessions at Carmel RC College, where I was given a wonderfully warm welcome. I think Ms Stebbings, of Carmel's Learning Resource Centre, had been reading this website, because at the end of the day I was presented with a gift bag including not just a bottle of delicious wine but also a packet of instant noodles and some parsnip crisps – thank you, Aileen! ;p My thanks, too, to ninja bookseller Nathan of Waterstone's Darlington, for looking after me for the day and for taking this pic. Check out how this website looked on a big screen: Charlie in Mr Palencar's painting looks bigger than me!
-------
Thursday 25th October 2007
Earth to Sam... Come in, Sam...?
Hello, hello! Yes! Ahem! 'Scuse me! ;)
If you've been checking in on this page wondering where the Hell I am, my apologies. Various great things have been afoot (ew! wipe them off on the doormat, quick!) and I haven't had a chance to update this page in FAR TOO LONG, oh dear, oh dear. In lieu of being able to make it up to you any better way, I'd like to present some new Answers to the excellent Questions that have been coming in lately on the Guestbook. HUGE THANKS, as ever, to everyone who's written in – your encouragement and kind words help keep me going – but especially (this time) to Eve from London, Xiaoyao from Australia and... someone we'll call "Anon"(!) Check the Q&A page, and scroll down.
'But what, pray, have you actually been doing all this time, Mr Enthoven?'
–Well, I've been cracking on with my latest book as best I can, but for the most part (GAH!) I'm... still not allowed to tell you! Or perhaps I could, but I'd have to censor myself, like this:
-No less than three new *****acts -including, unbelievably, an *****n with ********l(!!!)- are being negotiated or in transit as I'm typing this [until they're signed I'm not at liberty to discus them, but I've been wanting to tell you about those since JULY!]
-I've just heard yesterday that my next book, TIM, DEFENDER OF THE EARTH has been shortlisted for The W*t**st*nes Ch*ldr*n's B**k Pr*ze [but the official press release hasn't gone out yet so I can't tell about that, either].
-This may mean that Tim's UK launch date is going to be brought forward by ***** months [though – detecting a pattern yet? – I can't confirm that at present].
-This, in turn, will mean that the mighty WebSphinx and I are going to have to speed up our plans with the all-new and already awesome-looking dedicated Tim w*bs*te, due to go live... [Gah! Secrets again!] very, er, shortly. ;)
-An ******d ***io version of Tim is being recorded this week, for eventual sale in the UK.
-Final proofreading of the text is (almost!) done, and the cover art is in: two – two! – spectacular jackets, one for US and one for UK [but – guess what? – I can't show those to you yet, either! RRR-!]
...No! No, it's just too frustrating: folks, it's time for a sneak peak. This spectacular painting by wonderful artist Dan Dos Santos is going to be a four-page gatefold in the centre of Tim's US edition. Pretty nice, no? Just – shhhhh! – don't tell anyone I told you. And watch this space! ;)
-------
Friday 19th October 2007
Visits!
Interested in me coming to talk at your school, bookshop or local library? I LOVE doing events and visits, and with my next book coming out soon I'm looking to do as many as I possibly can! If you're a teacher, librarian or bookseller based in the UK, check out my newly-updated page at ContactAnAuthor, here. There's a special email address: further details are available on request. And of course, if you're reading this and you're not a teacher, librarian, or bookseller, but you'd still like to see and hear me come and do my stuff near you, then do please ask your nearest teacher, librarian or bookseller(!) to take a look at that page, or this one, too!
-------
Friday 5th October 2007
Postcards from Hell!
Look at these!
...And THESE!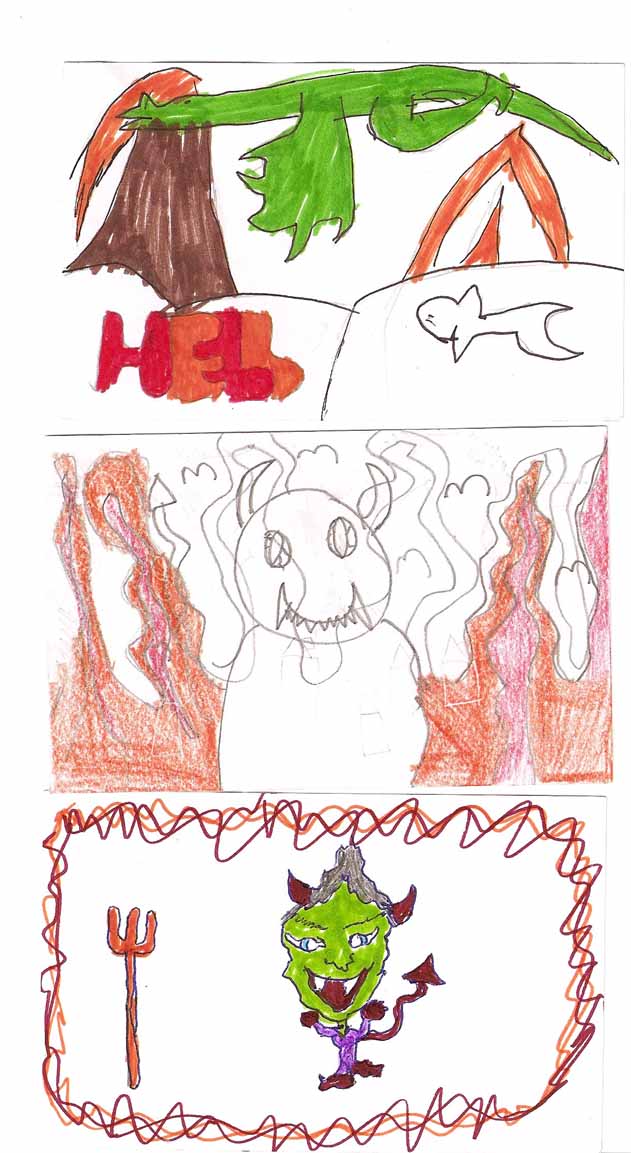 These postcards are the spectacular and imaginative works of the talented pupils of The Marsh Academy, in Kent (England!) I had the very great pleasure of being invited there for a day's visit. Just in case anyone's getting worried, I feel I should point out that these postcards were made as a creative exercise, and a terrific idea it was, too: before I arrived at the school the students were given the descriptive passage in the Black Tat chapter 'Welcome to Hell,' and asked to imagine what Charlie might write in a postcard to his mother at home [so of course, it's Charlie, not the students, saying stuff like 'Hell is Great' – HEE HEE HEE! ;p]
My three sessions at The Marsh Academy were tremendous fun: the audiences were wonderfully attentive, and full of excellent and detailed questions. The school has only recently opened its doors after a major refit: I was enormously impressed, both by its excellent facilities and by the atmosphere of enthusiasm and commitment from staff and students alike. A huge and gleeful THANK YOU to Ms Hughes, and everybody else I met, for a splendid welcome and a truly inspiring day. I look forward to returning to The Marsh Academy one day soon – if, of course, they'll have me back! ;)
-------
Read earlier news posts here.