The Black Tattoo - a book about demonic possession, flying kung fu, vomiting bats, the end of the universe and other fun stuff like that, by Sam Enthoven.
Visits
I always aspired to be the kind of writer who does loads of appearances at schools, libraries and bookshops. This is for the simple reason that I remember how inspiring such visits can be from my own schooldays - so, I'm delighted to say that doing events has turned out to be one of my favourite parts of this job!
As I'm writing this (late Sept '06), I've just returned from my first ever UK tour: all last week I was travelling around the UK making around three school appearances a day, culminating in a giant reading/Q&A session in front of two hundred keen young readers. Here are some photos from the tour so you can see me in action...
(Thank you to Graham Fellows at Bristol Grammar School for the first two!)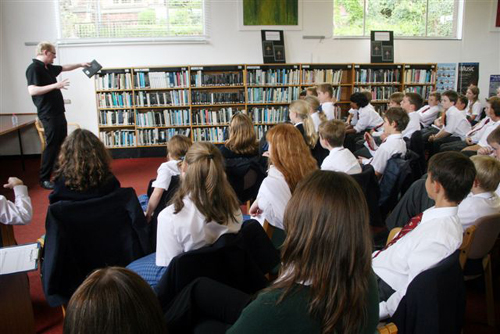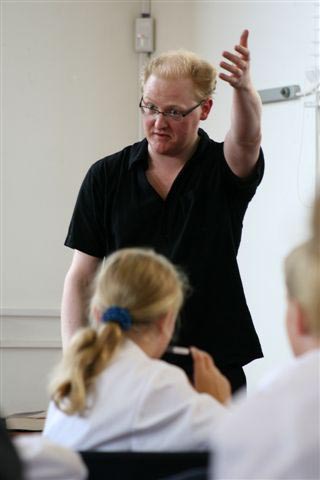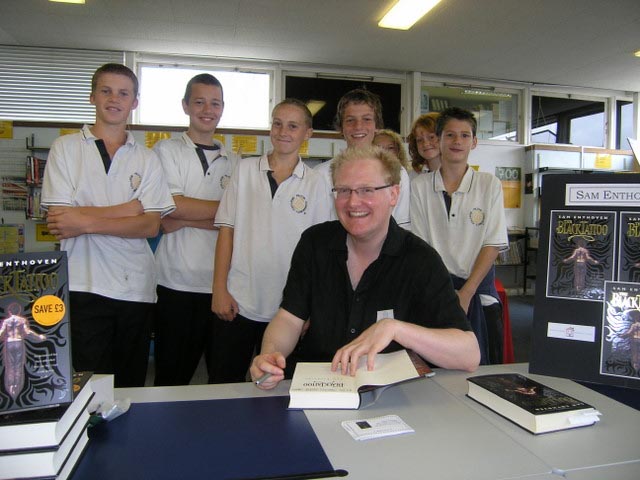 Here's one of my largest audience so far: you can see that I had their attention!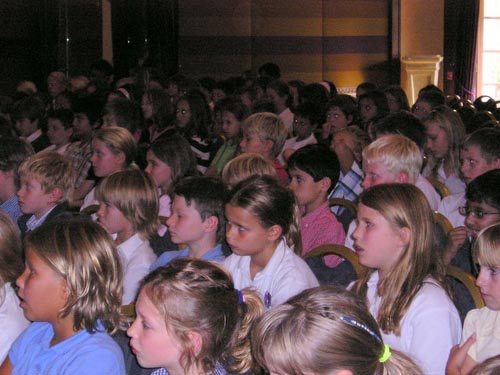 My publishers, agent and I are all extremely keen to organize as many more school, library and bookshop visits as possible. If you're interested in me coming to do my thing (and wave my arms about!) somewhere near you, then please drop me a line at authorvisits@theblacktattoo.com
Details:: I am based in the UK so (unless your expenses budget is extremely generous!) I can currently do one-off events in the UK only. I charge a fee for appearances (plus expenses), but this will only be based on the guidelines of The Society of Authors. Posters and promotional materials - in addition to the ones on this site! - should be available from my publishers once we've fixed a date: they will also help you with enquiries about supplying books for sale at the event. Further details available upon request. Looking forward to hearing from you!
'Pupils at Pilton Community College were enthralled with author Sam Enthoven's rendition of his new book The Black Tattoo. English teacher Sheryl Arnold said: "His ability to draw his readers in with his vivid descriptions and drag them through the pages of his adventure, coupled with his wild enthusiasm for life, his book and his readers, made this visit one to remember for a very long time."'
The North Devon Gazette, 20th Sept 2006